Intensive Driving Courses in Middlesbrough
Local One Week Intensive Driving Courses in Middlesbrough
One Week Driving Course specialises in providing Intensive Driving Courses with or without a Theory Test included to clients throughout most of the UK, via a network of instructors.
These types of courses are sometimes called One Week Intensive Driving Courses Middlesbrough, One Week Intensive Driving Lessons Middlesbrough, One Week Crash Course Driving Lessons Middlesbrough, One Week Driving Courses Middlesbrough or Fast Pass Courses Middlesbrough
Our 10-Point Road to Success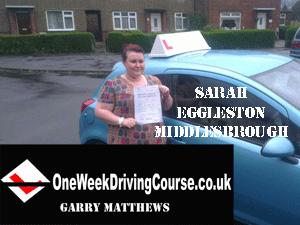 Why choose
OneWeekDrivingCourse.co.uk?
With a team of dedicated, fully qualified, approved driving instructors, experienced in providing intensive one week and two week driving courses, One Week Driving Course has a professional team, qualified to take the student through their practical test, in as short a time as possible, whilst still maintaining a high quality service.
Learning to drive, is a lifelong skill which should be both enjoyed and taken pride in.
One Week Driving Course provides driving courses ranging from a one day re-test course for someone who has recently failed a test ranging up to and including two week driving courses, designed for someone who needs that little extra time to take the information in
Here is a small list of some of our driving courses:- 6 hour & 12 hour re-test courses in Middlesbrough, 18 hour crash courses in Middlesbrough, 24 hour intensive driving courses in Middlesbrough, 30 hour driving courses in Middlesbrough, 36 hour one week pass courses in Middlesbrough , 42 hour intensive lesson courses in Middlesbrough, 48 hour pass your test courses in Middlesbrough and our popular guaranteed pass driving course in Middlesbrough.
One Week Driving Course has a wide range of customers ranging from people who need to learn urgently for their job, students who want to get the driving test done during holidays, to people living abroad temporarily who wish to return to take their test in the UK to obtain one of the most recognised driving licences throughout the world.
One Week Driving Course instructors have experience in training new drivers from scratch, to the person who has perhaps failed a test a few years ago and didnt carry on.
Many of the instructors have been involved in instructor training and have experience of advanced driver training.
Driving Schools Middlesbrough
Driving Lessons Middlesbrough
Intense Driving Lessons Middlesbrough
Driving Instructors Middlesbrough
Intensive Driving Courses Middlesbrough
One Week Driving Courses Middlesbrough
Fast Pass Driving Courses Middlesbrough
Intense Driving Courses Middlesbrough
Driving Course Middlesbrough
Driving Crash Course Middlesbrough
Intensive Driving Lessons Middlesbrough
Pass Plus Middlesbrough
Our Courses in Middlesbrough
View the popular intensive driving courses in Middlesbrough. This is a small range of courses available. Please see our booking page for full information on the availability of courses and respective course dates.
What Our Students Have to Say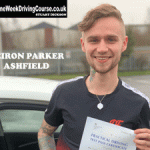 5 star price and service I booked a 24 hour course and couldnt recommend this any more passed first time with only one minor my recommendation to one week driving and more to Stuart dickson He stayed very calm with my many mistakes and had so much faith in me great teacher.
Keiron Parker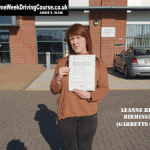 I took the 30hour crash course with 8ish hours of previous experience, I had my first theory test and failed, then went on to have my second theory the day before my course started and passed which meant my test was booked in for the end of day 6 (I done mine over 6 days). Abdul was my instructor and just wow! Is all I can say. He is one fantastic driving instructor, he moaned he was firm he was pushing and pushing me! And it from my experience is what an instructor should do!!!!. I needed someone like him he was straight to the point and didn't beat around the bush! The day of my test I was a wreck, I done everything wrong in my lessons that could possibly go wrong, I cried at the wheel just before my exam. I told Abdul over and over I'm not ready I can't do this. And there we have it I passed first time!!!. Every bit of credit goes to the man himself, I hand on my heart couldn't of got through non of it if it wasn't for him. The course…. well in my experience was exactly what it says on the label, intense! At times I regretted doing it because it was all too much personally I found it far too stressful, but the result I have now I must of done the right thing. It was worth every worry every tear every sleepless night and most of all every penny! Personally I would reconsider if you dont do well under pressure as a lot is pressure, but if you can the perfect just make sure you put in as much effor as instructor does especially if it's as good as mine. Thank you Abdul!!
Leanne Reeves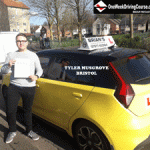 The booking process was easy and simple to follow, it's pretty pricey as the lump sum, but you only have to put down a deposit first and pay later which made it easier. The instructor I was given was also excellent, who was completely sourced from oneweekdrivingschool which was fantastic, the only problem I had was a lot of the emails was sent to my junk mail inbox resulting in me missing my theory test, but oneweekdrivingschool was able to help and advise me in booking another one. All in all, it was a good experience as I passed with only 1 minor, would 100% recommend.
Tyler Musgrove
Instructor:
Brian McCausland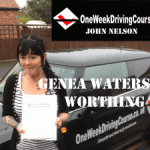 Thanks sooooo much to the One Week Driving Course and John Nelson the instructor who was the best!! I really didn't expect to pass at the end of the week, I'm not sure I could have been any worse on my first day, and I think John performed a miracle getting me to a pass by the end of the week. I would definitely recommend this as a way to learn to drive. Thanks!!
Genea Waterson
Location:
Brighton and Worthing