Intensive Driving Courses in Margate
Local One Week Intensive Driving Courses in Margate
One Week Driving Course specialises in providing Intensive Driving Courses with or without a Theory Test included to clients throughout most of the UK, via a network of instructors.
These types of courses are sometimes called One Week Intensive Driving Courses Margate, One Week Intensive Driving Lessons Margate, One Week Crash Course Driving Lessons Margate, One Week Driving Courses Margate or Fast Pass Courses Margate
With a team of dedicated, fully qualified, approved driving instructors, experienced in providing intensive one week and two week driving courses, One Week Driving Course has a professional team, qualified to take the student through their practical test, in as short a time as possible, whilst still maintaining a high quality service.
Our 10-Point Road to Success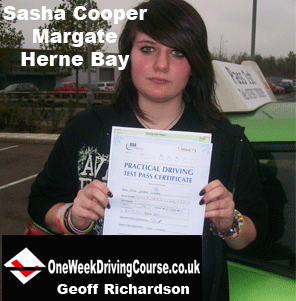 Why choose
OneWeekDrivingCourse.co.uk?
Learning to drive, is a lifelong skill which should be both enjoyed and taken pride in.
One Week Driving Course provides driving courses ranging from a one day re-test course for someone who has recently failed a test ranging up to and including two week driving courses, designed for someone who needs that little extra time to take the information in
Here is a small list of some of our driving courses:- 6 hour & 12 hour re-test courses in Margate, 18 hour crash courses in Margate, 24 hour intensive driving courses in Margate, 30 hour driving courses in Margate, 36 hour one week pass courses in Margate , 42 hour intensive lesson courses in Margate, 48 hour pass your test courses in Margate and our popular guaranteed pass driving course in Margate.
One Week Driving Course has a wide range of customers ranging from people who need to learn urgently for their job, students who want to get the driving test done during holidays, to people living abroad temporarily who wish to return to take their test in the UK to obtain one of the most recognised driving licences throughout the world.
One Week Driving Course instructors have experience in training new drivers from scratch, to the person who has perhaps failed a test a few years ago and didnt carry on.
Many of the instructors have been involved in instructor training and have experience of advanced driver training.
Driving Schools Margate
Driving Lessons Margate
Intense Driving Lessons Margate
Driving Instructors Margate
Intensive Driving Courses Margate
One Week Driving Courses Margate
Fast Pass Driving Courses Margate
Intense Driving Courses Margate
Driving Course Margate
Driving Crash Course Margate
Intensive Driving Lessons Margate
Our Courses in Margate
View the popular intensive driving courses in Margate. This is a small range of courses available. Please see our booking page for full information on the availability of courses and respective course dates.
What Our Students Have to Say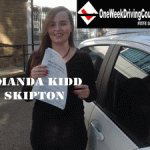 I took a 36 hour intensive course with Steve Leatherbarrow through One Week Driving Course. He is an excellent instructor and is very patient and easy to get along with. He gave me very clear and precise instructions that work on any car rather than teaching tricks that would only help to pass the driving test in his car.
I was due to take my driving test in Halifax on the last day of my course, but unfortunately it was cancelled the day before and rescheduled for 1 month later. Although it was not OneWeekDriving's fault, Steve worked hard to find an earlier test date, a week later in Skipton. We even spent two days before my test driving in Skipton and getting me used to the area. I passed 1st time with only 3 minors.
Overall it was a great experience and I would highly recommend it.
Amanda Kidd
Instructor:
Steve Leatherbarrow
After trouble passing my test 4 years previous I thought I would try a 24 hour course. This was over 4 days (6 hours driving a day) with my test at the end of the 4th day. Thanks to my brilliant instructor Ian Whitewood I passed first time with no minors! Overall extremely positive experience and would recommend to anyone.
Brandon Wilcox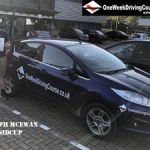 I past 1st time and Steve is a top man I can say the best thank you mate.
Joseph McEwan
Having never so much as sat in the drivers' seat of a car before, I enrolled on a One Week Driving Course (the 48hr Guaranteed Pass), desperately hoping that – with a little determination and some serious dedication – I could pass in time to be driving my wife, two cats and I around to visit everyone for Christmas this year: no longer having to deal with incessant bloody trains! Paired with Sadegh – perhaps the most calm and patient person I've ever met – as my instructor, I achieved that end in no time. We began on Sunday 1st November (driving for 6 hours each day), for a total of 8 flexible days, and – on Wednesday 11th (a mere 10 days later!) – I took and passed my test, first time (with only 2 minors recorded). It was – to put it plainly – utterly exhausting: but absolutely, 100%, worth it. It's difficult to describe just how tiring – mentally and physically – driving for such a solid, condensed period of time actually is: but it certainly prepares you for what's required in your test. My instructor Sadegh put his absolute trust and faith in me from day one (a rather "throw you in at the deep end: sink or swim" teaching ethos), which I feel worked wonders for my learning curve: I found myself desperately wanting to prove I was worthy of that trust, and aimed to be the best I could each and every time I got behind the wheel – and put my hand on the gearstick – of that little Nissan Micra. As the test centres closest to my area were all booked up, I was sent to Wanstead, in East London, for my test. As anyone who takes a minute to search "Wanstead driving test", or anything similar, will find: the place has the highest first-time fail rate in the entire country, with negative comments and driving test horror stories in abundance… I was terrified. I felt ready, however: confident and prepared; and I wasn't going to let anything affect my chances of getting a pass but me. I treated the test the same as any other day: imagined that it was just my instructor Sadegh sat beside me, and that I was simply putting what he'd taught me into practice as i'd done each day for the past week or so. And, to my utter relief, it worked. As a bonus (as if the pass wasn't enough reward in itself), I was immediately refunded £200 – as promised – for passing first time. The whole thing worked, in fact. I would whole-heartedly recommend it to anyone who is serious about learning to drive. No messing around: just you and your instructor; in a car together for a week; one goal on which to focus; practice; practice; practice… and you're ready. To all at One Week Driving Course, and to my fantastic instructor… Thank you. Aaron.
Aaron Carr
Instructor:
Sadegh Feri Doonian