Intensive Driving Courses in Blyth
Local One Week Intensive Driving Courses in Blyth
One Week Driving Course specialise in providing Intensive Driving Courses with or without a Theory Test included to clients throughout most of the UK, via a network of instructors.
These types of courses are sometimes called One Week Intensive Driving Courses Blyth, One Week Intensive Driving Lessons Blyth, One Week Crash Course Driving Lessons Blyth, One Week Driving Courses Blyth or Fast Pass Courses Blyth With a team of dedicated, fully qualified, approved driving instructors, experienced in providing intensive one week and two week driving courses, One Week Driving Course has a professional team, qualified to take the student through their practical test, in as short a time as possible, whilst still maintaining a high quality service.
Our 10-Point Road to Success
Why choose
OneWeekDrivingCourse.co.uk?
Learning to drive, is a lifelong skill which should be both enjoyed and taken pride in.
One Week Driving Course provides driving courses ranging from a one day re-test course for someone who has recently failed a test ranging up to and including two week driving courses, designed for someone who needs that little extra time to take the information in.
This is a small list of some of our driving courses:- 6 hour & 12 hour re-test courses in Blyth, 18 hour crash courses in Blyth, 24 hour intensive driving courses in Blyth, 30 hour driving courses in Blyth, 36 hour one week pass courses in Blyth , 42 hour intensive lesson courses in Blyth, 48 hour pass your test courses in Blyth and our popular guaranteed pass driving course in Blyth.
One Week Driving Course has a wide range of customers ranging from people who need to learn urgently for their job, students who want to get the driving test done during holidays, to people living abroad temporarily who wish to return to take their test in the UK to obtain one of the most recognised driving licences throughout the world.
One Week Driving Course instructors have experience in training new drivers from scratch, to the person who has perhaps failed a test a few years ago and didn't carry on.
Many of the instructors have been involved in instructor training and have experience of advanced driver training.
Driving Schools Blyth
Intense Driving Lessons Blyth
Driving Instructors Blyth
Intensive Driving Courses Blyth
One Week Driving Courses Blyth
Intense Driving Courses Blyth
Driving Course Blyth
Driving Crash Course Blyth
Intensive Driving Lessons Blyth
Our Courses in Blyth
View the popular intensive driving courses in Blyth. This is a small range of courses available. Please see our booking page for full information on the availability of courses and respective course dates.
What Our Students Have to Say
Well structured course with a good instructor. Confidence building and learning driving skills were very good.
Sean Chamberlain
Instructor:
Richard Beavan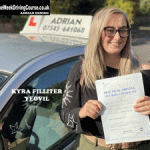 Adrian was absolutely amazing teaching me to drive, very calm and patient, and genuinely pleased for me when I passed! He made the whole week fun as well as informative!
Kyra Filliter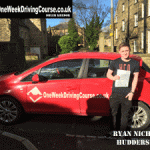 Completely what I expected. I had no experience to begin with, which I was nervous about at first, but after the first 20 yards you realise it's nothing extremely challenging. After a week of driving I was confident going into the test. It was over before I knew it and I sort of knew I had passed without being told so.
Instructor was friendly, good at communicating and very professional.
Patrick Fripp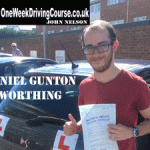 The course itself was great. The instructor was good and prepared me well for the test.
Dan Gunton